Los Angeles Fashion Week
Project Runway Designer John Sakalis's LA Fashion Week Show Remembers Zelda Fitzgerald
By
|
Pictured: Zelda Fitzgerald with her blond bob from the 1922 edition of Metropolitan Magazine. (
Photo: Metropolitan archives.)
Some might say that Los Angeles Fashion Week is just the poor cousin to the runways of New York, Paris and Milan where the best known and commercially successful designers show their fashions. But although it may not have the big names, or the sound and the fury of the more popular venues, LA Fashion Week has its own unique voice. The LA shows offer new talent and fresh perspectives from the West Coast. One designer collection that deserves a look from both buyers and customers is John Sakalis's Fall/Winter 2010 Collection. Fans of the TV show
Project Runway
may remember designer John Sakalis from the Bravo show. Viewers may remember the scenes where Tim Gunn was counseling and encouraging him, and when he was ready to give up. Unfortunately, he didn't win
Project Runway
, but this Los Angeles designer, learned from his experiences and came back to  put together a stunning collection at Los Angeles Fashion Week's Concept show. Tim Gunn was right when he encouraged him by saying, "I know you can do it"  in one memorable
Project Runway
scene.  When I asked John about Tim Gunn, he says that Tim is indeed really that nurturing and caring. "He wants to see everyone succeed", notes John. "His concern and coaching are real."
With many designers showing subdued fall colors like eggplant and charcoal, Sakalis's collection returned to a more vintage vibe with a traditional fall mix of tweeds, boucle, brown lace and nude jersey. He showed fitted dresses that were sophisticated and sleek.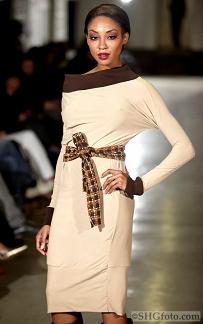 Pictured: A John Sakalis nude jersey dress with dolmain sleeves, wide tie belt and contrasting collar trim from his March 24th LA Fashion Week show.
(Photo: SHGFoto.com)
But the most surprising reveal of his collection was his inspiration. At the end of the show, he noted that his muse was Zelda Fitzgerald. Zelda, the talented, but alcoholic and later schziphrenic wife of writer F. Scott Fitzgerald. Zelda was the perhaps the quintessential  Hollywood wife of her day, married to a more famous celebrity but longing to be acknowledged in her own right. If she were here today, I wonder if she would have her own fashion line.  It's fun to think about what might have been.  She loved to design and the paper dolls she illustrated for her daughter with cut out clothes were amazing.
 Pictured: Zelda stepping out to an evening at the theater in the early 1930s with F. Scott Fitgerald.
In the 1920s, Zelda Fitzgerald graced many magazine covers with her sense of style. Her  distinctive blond bobbed hair, dropped waist dresses and sharp wit help define the flapper.  Later, in the 1930s, her style became more refined and elegant as she adopted halter gowns, cowl neck tops, tailored dresses, and bias cut gowns for her rare evenings out with Scott.  To me, it was Zelda's 1930s style that John Sakalis captured and paid tribute to.  He showed a gorgeous short dress, with brown lace around the neckline that I could see an updated Zelda wearing.When I asked John about being inspired by Zelda he said,  " Although she lead a very pained life,  I tried to  interpret who I thought she was, and make her a superstar today. The collection honors her memory.  She was a strong woman.  The collection should appeal to other strong powerful  women with its 1930 style, drappiness and ease of wear."
Pictured: A John Sakalis evening dress with halter tie and brown lace.
(Photo: SHGFoto.com)
Although Mr. Sakalis's collection featured some sheerness at the bustline, and would probably be best lined when it hits store racks, his fabric choices of silk nude jersey, lightweight lilac/ purple cashmeres and tweeds were impeccable. For him, its all about making women feel good in the clothes. He says, "I design clothes to bring out inner beauty, its about the feeling the clothes can give to make women feel beautiful." I wish Zelda were alive to get that feeling. I think she would be pleased to be remembered by John Sakalis after struggling for so long to achieve her own artistic identity. Her style lives on in John Sakalis's collection. The title of Zelda's novel was "Save Me The Waltz." Someone finally did.