Fashion
The Recessionista's Top Picks: Gowns from the Metropolitan Costume Gala
By
|
Pictured: One of my favorites, Chelsea Clinton on the red carpet. (photo via Huffington Post)
Last night was the Metropolitan Costume Gala, the so called "Oscars" of the east coast.  The red carpet was alive with some gowns from the world's best designers: Valentino,Vintage Givenchy, Valentio, Donna Karan, Prada, Tom Ford, Zac Posen, Tory Burch and Ralph Lauren among others. As usual, there were many hits and misses on the red carpet, demonstrating that once again, just because you can afford a luxury gown, it does not mean it will look good on you ( or anyone else for that matter.)  I like actress Elizabeth Banks, but she was not looking her best in a Mary Katrantzou gown that was just plain baffling.  My top pick from the gala for beauty is Chelsea Clinton (see the picture above.) I was always upset by how cruel some members of the press were to her when she was the first daughter.  She answered all her critics last night on the red carpet at the Met Gala looking breathtaking. I'm still trying to find out who designed her dress, if you know, please leave a comment.  Chelsea looked amazing!
Pictured: Pretty in pink: Leslie Mann (far left) in Nina Ricci gown, Sarah Jessica Parker in Valentino dress, actress Paula Patton (middle) in baby pink Vera Wang, and Allison Williams (right) in magenta in Ralph Lauren (pictures via Getty Images.)
The Metropolitan Museum of Art Costume Institute Benefit last night celebrated  the opening of the "Schiaparelli and Prada: Impossible Conversations" exhibition in New York.  As a homage, there were many Prada gowns on the red carpet and lots of pink gowns in tribute to Ms. Schiaparelli who used a lot of pink in her collections and for her perfume packaging.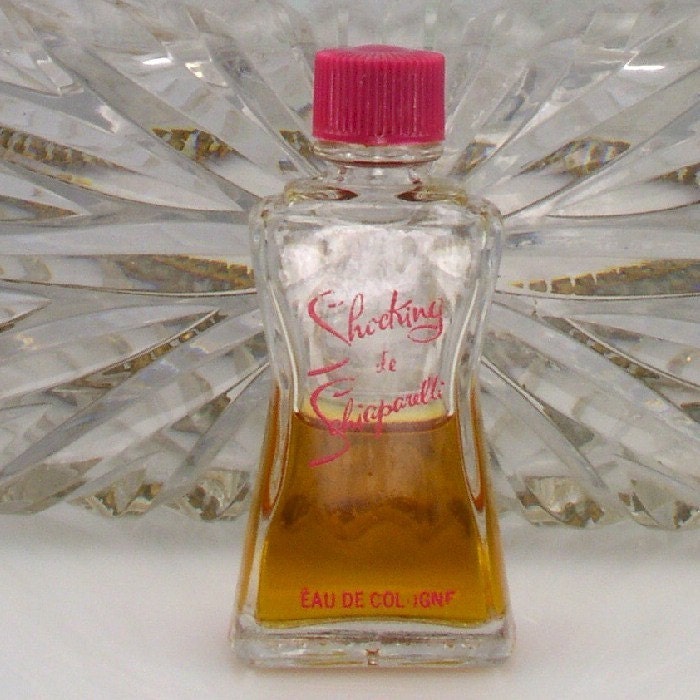 Pictured: The Hot Pink used on the perfume packaging for "Shocking by Schiaparelli" from an Etsy listing.
Pictured: Celebs Pink Karlie Kloss (left) wears Jason Wu, Emily Blunt (middle) in Calvin Klein, and Emma Stone (right)  in Lanvin.
 Some fashion experts even think Elsa Schiaparelli invented "hot pink." 'I gave to pink, the nerve of the red, a neon pink, an unreal pink," said Ms. Schiaparelli.   To see more of the fashions from the Met Gala that I like, check my Pinterest board. Of of my favorites was designer Donna Karan in a white strapless gown of her own design. Donna looked glamorous, but real.  She's not a runway model, but wow is she sexy! Designer Tory Burch looked equally stunning in a dress of her own design, with pink lace overlay in tribute to Schiaparelli.